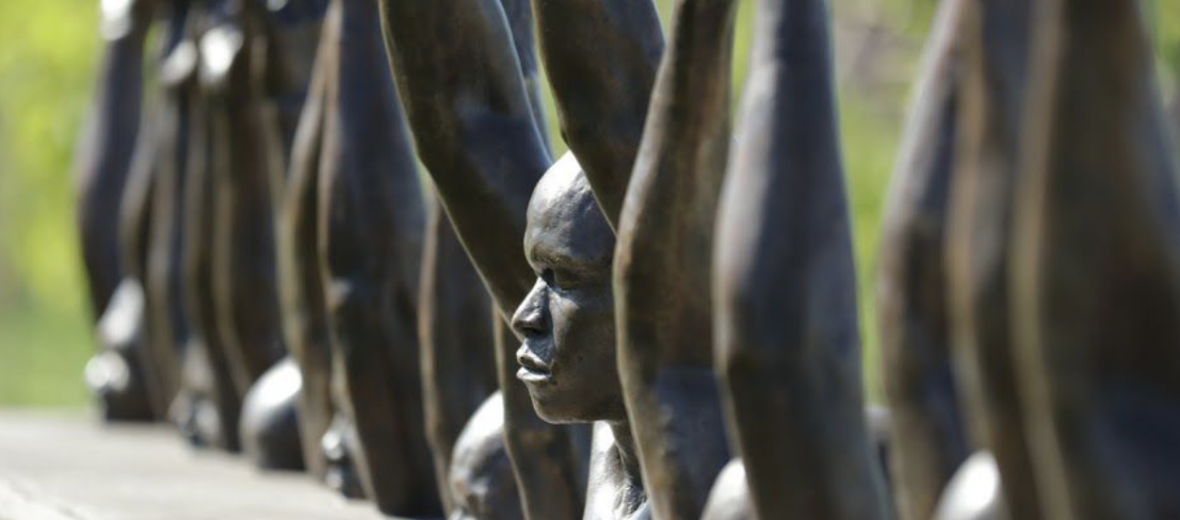 Adam and Eve are famous for breaking the world with sin, but there is another heart-ache. They are parents who lost a child to murder. Their second-born son, Abel, was killed by his older brother Cain. They had both brought a sacrifice before the Lord in worship and Cain's was rejected by the Lord while Abel's was accepted. In a fit of jealous rage, Cain struck down his brother in a field; acting as judge, jury, and executioner to his own twisted sense of justice. Thus, murder was introduced to the race of man. Ever since the blood poured out of Abel's body onto the ground and his mortal life ebbed away, the act has become common to man. It's been with us from the very beginning. And on the day Cain took the life of his brother, the only witness was his blood. It cried out to God from the ground. It cried out for justice.
By the best metrics, nearly half a million human beings are killed every year by another human being. This number doesn't count inter-state conflict, war, or genocide, so it is purely homicide. And while homicide only accounts for 1% of all annual deaths globally, it is undoubtedly the most personal and horrific way to lose a life. It is one person ending the life of another person. It is shocking, brutal, base, and vile. 
In the early afternoon of February 23, on a beautiful day in Brunswick, GA, a 25 year old man named Ahmaud Arbery was gunned down in the road by a father and son who suspected him of criminal activity.
Here are the confirmed facts surrounding the murder.
On January 1, a handgun was stolen from an unlocked vehicle belonging to Travis McMichael. It was the only reported 2020 crime in the neighborhood before Arbery was shot.
On February 11, Travis McMichael made a 911 call after seeing a man enter a home under construction. The man who entered the construction site was not identified, no criminal activity other than trespassing was found and no arrests were made.
On February 23, at 1:07pm another 911 call was placed from the same subdivision reporting again that there was a man inside a home under construction. The dispatcher asked the caller what the man was doing wrong. No answer was given.
Moments later, at 1:14pm, another 911 call was placed. The caller said there was a man running down the street.
Shortly after this call, Gregory and Travis McMichael, both openly presenting firearms, confronted an unarmed man jogging down the road in their subdivision. After a short physical altercation, Travis McMichael shot Ahmaud Arbery twice with his shotgun and Ahmaud lay dead in the street.
Oh, and one other detail. The McMichaels are white men and Ahmaud Arbery was a black man.
The McMichael men called 911 after the killing and made false statements about the events surrounding the murder. We know that because we have the police report and an actual video of the incident. The elder McMichael was a law enforcement officer for over 30 years, but last year was stripped of his certification for unknown reasons. Among other positions, he had served as an investigator for the Glynn County District Attorney.
Ahmaud Arbery was a high school athlete who wore his older brother's number on his jersey. He was an avid runner who ran frequently in Brunswick.
But you know all this. The facts of this case have been on national news outlets for the past week as the video of Ahmaud's murder was released and a groundswell of social media protest began. People were upset that an event of this magnitude could take place in broad daylight without a single arrest being made for over a month. A man was dead and the two men who chased him down had not even been detained, much less faced any charges.
After reviewing the facts of the case, reading the police report and related 911 transcripts, and looking at the background of all involved, it seems likely that the main motivation that drove the McMichaels to kill Ahmaud was based on the fact that he was black and in their neighborhood. His blackness was the sole identifying characteristic upon which they based their suspicions. As the McMichaels grabbed firearms and jumped into their truck, the only sure thing was that there was a black man running down their street. Ahmaud's father has called this "a modern-day lynching" and it isn't hard to see why he thinks so.
Racism is a terrible evil. Whenever we think we are worth more than another person because of the color of our skin, we are being racist. That attitude comes out in all sorts of ways. In this case, the racism that is most concerning to me is the attitude of some people toward Ahmaud Arbery as they approach the facts of this story.
It typically goes something like this. "Well, he probably was stealing something or at least trying to case out a place for later." Or maybe this. "You know that kid was arrested for bringing a gun to a sporting event." Or maybe this. "I've heard he had mental issues."
This is the sort of prejudice and negative presupposition that becomes the seed-bed for racism. And quite frankly, it has no place in the mind of the Christian. Given the long history of racism in our nation and the long history of black men being killed by law-enforcement officers, white Christians need to carefully weigh their voice in response to similar acts of violence. The anguished voices of black brothers and sisters grieve another loss of life and watch as the justice system moves slowly and painfully forward. White voices, especially those of the church, should be raised in unity as well. Why would anyone try to build a negative narrative to serve as a backstory in support of Ahmaud's death?
Ahmaud Arbery was a man created in the image of God. As an image-bearer, he requires the dignity given to all other image bearers. Ahmaud was a black man. That distinction is important only so far as it unites him to a rich heritage of success, invention, theological thought, perseverance, and cultural merit. His blackness is not a crime nor is it on its own any basis on which he can be suspected of one.
No one should have been killed on the basis of the facts surrounding the death of Ahmaud Arbery, and certainly not by two men armed with guns and suspicion. The truth is, Ahmaud Arbery had not committed a crime the day he died, unless of course you want to count walking into a house under construction a crime. If it is, I'm guilty on at least 20 counts. But ask yourself why that information matters to you. The men who gave chase with loaded weapons had no evidence of a crime and were not officers of the law. They had no business doing police work. When Ahmaud was confronted by men with weapons aimed at him, he did what any person has the right to do – defend himself. He did not have to stop to talk. He did not have to submit to any self-granted authority.
Our first response should not be to try to assign blame to Ahmaud. It should not be to attempt to exonerate the actions of the McMichaels. Our first response is to cry out for justice. Optics aside, this case holds clear and pressing ramifications for race relations and race-based issues of justice. For this alone, we should long for true justice to be done. But the fact that a human being was killed should cause us to react with shock and horror. It is brutal, base, and vile. We should immediately grieve with the family and friends of Ahmaud and recoil at the lawless behavior of the McMichaels, whose feet were swift to violence as judge, jury, and executioner.
The McMichaels want to claim self-defense and citizen's arrest. It is a thin charade. Let the church speak out on behalf of the victims of all such crime. As Ahmaud's blood poured out of his body on the street that day, it cried out to God for justice. It is a witness for justice. Let us not let his blood be the only voice God hears.